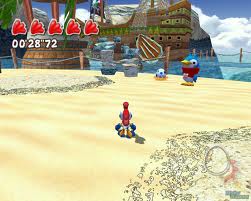 Pirate's Island is the second 'Land' in the world of Billy Hatcher and the Giant Egg. Pirate's Island is a land surrounded by water, sunkenships, sharks, gold, and islands. This land is lead by a Gigantic Fish, named Captain Glur.
Missions
Edit
Save Chicken Elder Uri-Uri!
Hurry to the Pirate Ship!
Race Against King Clippen!!
Save Rolly!
Treasure in the Captain's Room
Defeat 100 Crows!
Chick and the Game Salesman
Save the 8 Chickens!
Ad blocker interference detected!
Wikia is a free-to-use site that makes money from advertising. We have a modified experience for viewers using ad blockers

Wikia is not accessible if you've made further modifications. Remove the custom ad blocker rule(s) and the page will load as expected.